25 November 2014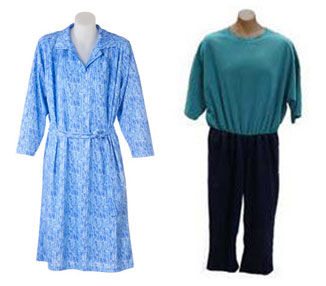 The Petal Back style is a unique design that I designed whilst caring for my grandmother in a nursing home. All Petal Back Clothing opens from the back & slides up the arms, which have deep armholes, first - and then over the head.
My previous experiences in the fashion industry lead me to know that there had to be more options for my grandmother to maintain her style and dignity.
I consulted with the nursing home staff and care providers on what was practical for the elderly to dress themselves or safe for nursing home staff to help them get dressed. The range grew from there to include different outfits for women as well as men, for daywear, nightwear and underwear.
Petal Back Clothing has a wide range of clothing choices for ladies and gentlemen.
There are feminine, delicately patterned nighties for the ladies and smart nightshirts for the gentlemen. All the garments are designed with the petal back non-fastener patent to assist in easy dressing for those with arthritis, victims of strokes or other disabling conditions.
They are also serviceable for the incontinent. Our adaptive clothing range includes comfortable leisurewear for wheelchair or armchair sitting, and also features warm sock styles that offer protection for fine skin as well as ponchos and knee rugs for warmth and cosiness.
When I designed Petal Back for my grandmother I wanted to meet her physical as well as emotional needs as she was a proud and determined lady, and it was important to her not only to be comfortable, but to also look and feel good.
My knowledge of fabrics and design helped me to create the Petal Back Clothing range, using different style options in combination with fashionable materials to offer practicality and safety for our customers.
All our garments are designed especially for those in need of extra care, with great importance placed on comfortable, practical and affordable items.
Our ultimate aim is to improve the quality of life of the people we love that are now in a care environment.